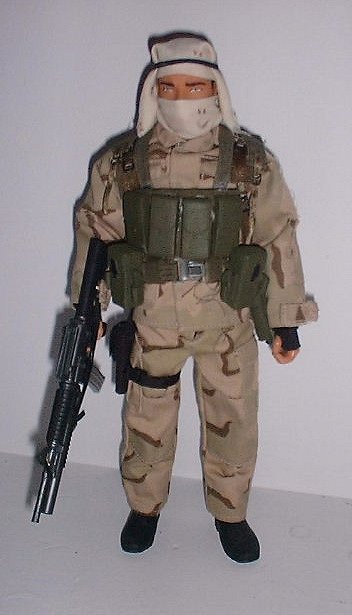 Desert BDUs
webbing
2 ammo pouches
2 canteens
(the rest of the water was carried in gas tanks)
butt pack
any knife
SOCOM holster with Beretta
(Browning hi-power would be better)
Two pocket back pack
Gloves
Danner boots

The chest gear is a bash using a calymore bag and the pockets from the CQB vest. Glue the pockets to the flap of the claymore bag and cut slots out of the bag which hangs below the flap. Just run a belt through the slots and voila!

The shamag is a shoddy job. I took a square section of a tan shirt and folded it. I used a spare elastic band for the headband.

The weapon is an M-4/M203 with the rear fixed M-16 stock attached in place of the collapsible.