2005 Weekend of Heroes

Unofficial Fan Page Group Photo: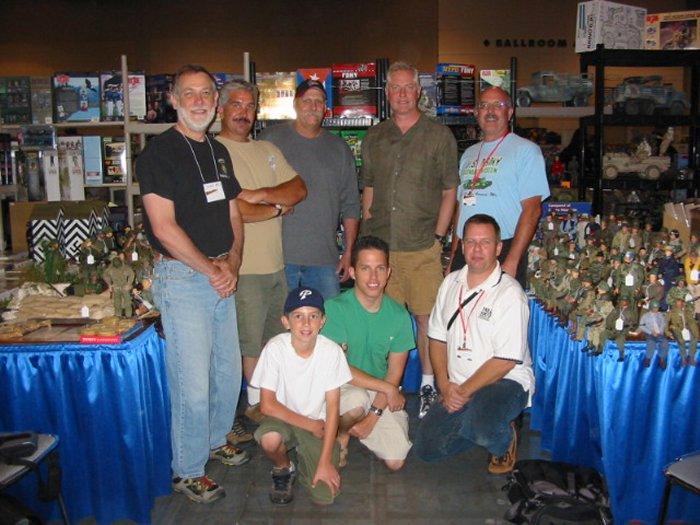 Left to right - back to front:
Hot LZ (Robert), BC Ries (Brian), Puking Dog (Mark), MSG Craig (Craig), Tank Mechanic (Mark),
Kruse Missile (Brian), Eagle 2582 (Ryan), Graeylin (Brian)




Wow, what a great time. I got to meet up with the guys for a group photo next to the Medal of Honor Recipients tribute. Those that showed up were myself, BC Ries, Pukin Dog (from the 1/6 board), MSG Craig, Tank Mechanic, Kruse Missile, Eagle 2524, and the incredible Graeylin. The MOH Recipients tribute was spectacular. Well over 100 figures representing over 150 years of valor above and beyond the call. A tip of the beret to Graeylin for providing the bulk of the figures, a great job and many thanks for his efforts. (Maybe sometime he will tell us about what he had to do to get to the show). I really have to apologize but I didn't get a picture of the tribute tables. I was so busy getting pictures of the other stuff that I totally spaced out and didn't get any shots.

I think that there were twice as many vendors this year as last. I could have spent days nosing around all the different vendor booths and tables. I gotta tell you, that the new Insight Knights are FAN-TAS-TIC. I love them. My next collection will include them for sure (once I get a bigger house to put them in).

I guess the thing that I enjoyed the most were the dioramas, the display figures, and the contest figures. The dioramas were terrific. Really quality work. Unfortunately, most were not identified as to built them so I didn't see any names that I knew. EXCEPT for the diorama built by the AZ Joeheads, including Graeylin. This thing was incredible!!! First, it was huge, probably 25 feet long by 6 feet wide. It was a scene depicting the battle for Berlin between the Germans and the Russians. One end was a series of buildings on ether side of a small street that was held by the Germans. Not only was there action outside on the street, but each house had something going on inside it. At the opposite end were the Russians assaulting through a wooded field. The middle area was a small canal and bridge where the fighting was most intense. The whole set was a series of small vignettes that fit together like a puzzle to create a wonderful battle scene that I think was absolutely Museum quality. Excellent work by all the AZ guys. Amazing, you could almost smell the Cordite in the air.

Two other dios that thoroughly grabbed me where a smallish scene showing three German FJ's low-crawling along the front lines. Another great dio. The figures and uni sets were awesome. Great textures in the snow covered ground. You could fell the intensity in the moment. The second dio that really impressed me was of some German Infantry fighting in a large, deep trench. Fantastic, great figs and uni sets, lots of action, great details in the trench construction. Would love to know how you guys make dirt look like dirt. Loved it!!!

Speaking of dirt, one other dio that I really liked was two SPECOPS guys and an Afgan digging up a weapons cache out in the desert. Once again, really spectacular work. Great figs and uni sets, great poses, and great details. The weapons stacked up in that hole were terrific.

Next, was the Action Figure Contest. This year the number of overall entries was down from what I remember. However, the quality was as good as I've seen so far. I think there might have been an even breakdown between the Modern category and the pre-1938 category. I won't describe all the entries, but will talk about the winners as best as I can remember. For the modern category, the 3rd place entry was the Air Force PJ figure. Nicely done figure with the woodland camo uni set and fully loaded with gear. Second place, was another PJ figure with great gear and the woodland camo uni except he is wearing the MICH helmet. What set this figure apart is that he has Elvis thrown over his shoulder. The base has a "gag" patch that has a characture of Elvis and says, "If he's out there, we'll find him". A very clever and humorous figure. First place was my own HALO pilot. You guys might remember this one. He's got the woodland camo uni set and green HALO parachute with the ruck sack slung underneath. He is mounted as if he was in flight. This guy is one of my favorites and everybody seemed to like him as well. It's really interesting I started not to even bring this because I was working on something else that I didn't finish in time. Let me take a minute and mention Kruse Missile's very fine entries. He submitted two figures, one of a well geared up and weathered Afgan or Iraq Marine(?). A really great job. The gear and uni set were very well done. The uni set and figure were all weathered and sort of war worn. Really great work. Believe me, when this young man hits his stride, he is going to be a force to contend with at contest time. I have a feeling that the judges this year might have been more interested in action poses. On merit alone, Kruse's Marine would have been a winner. Keep it up guy!!!

In the pre-1938 category, the third place was a WWII Italian Paratroop with a custom made uni set and patches from the Patch Hut. A very nice figure with a really quality hand-made uni set. Second place, was a gorgeous Samuri warrior that was perfect. Really nice. First place was a mounted Army Sergeant in the Phillipines. Very nice all the way around.

There was only one entry in the vehicle category. I didn't get the guys name, but I have seen his Bradley Fighting Vehicle from a couple of years ago. This year, he entered a humvee with a trailer and a scout bike. The detailing was out of this world. The windshield was filthy, everything was covered in dust and dirt, it was great. What was interesting was that it was displayed with all the doors and rear hatch in the open position. The thing was filled with all kinds of stuff, MRE boxes, boots, ammo cans, clothes, you name it. It looked like my college dorm room. Just great.

In the diorama category, third place went to a British SAS jeep from WWII. Very nicely detailed with tons of stuff. Boxes of rations, tins of chocolate, ammo cases, even had extra boots with socks stuck into them. The closer you looked the more stuff you could see. Second place went to a really cool dio entitled "Smoking kills". Really dramatic rendering of a small squad of US troops assaulted a second story of a building where a squad of Germans are taking a smoke break. Assume work. First place went to a Knight on horse back that was in battle with some foot soldiers. Amazing work in the each figures unis and covering on the horse. What was equally interesting was the ground was covered in arrow shafts that had buried themselves on impact. Another dramatic and colorful battle scene.

Lastly, I have to say that it was an absolute privilege to be present for the events three guest speakers. First was Col. Paul Longgear, commader of the Green Beret A Team stationed at Long Dau, RVN. His A camp was under siege by reinforced NVA tank company that attempted to over-run his outpost. He was a very animated and talented speaker that engaged everybody with style, wit, and humor. A fascinating story told by a fascinating man. Second was Lt. Col. Danny Mcknight, commander of Task Force Ranger and subject of the book and movie "Blackhawk Down". What can I say about this incredible story. He was very enlighting as to what actually happened. He described in great detail and in the time that was available, a lot of detail as to how that operation ran, how it was planned, and what went right and what went wrong. Believe me, if it could be said that this operation went bad, if wsn't from lack of leadership, motivation or initiative. This man loved his Rangers and did right by them. I wouldn't hesitate to follow him into combat-anywhere, anytime. His talk was standing room only. HOO-AHH!!! Lastly and I'm not sure I got his name right-I belive it was Self. A very fine young Ranger Captain who led a small Ranger detachment onto a high, cold mountain where they fought a pitched battle in waist deep snow. He lost a few good Rangers and an Air Force PJ, but they went in against a large number of motivated Taliban fighters and accomplished their mission. You guys might have heard about this operation in the news. A Navy SEAL fell out of a Chinook and Captain Self's QRF team was shot down trying to locate and rescue him. It was an absolute pleasure meeting and talking with this you officer. His presentation and demeanor didn't leave a dry eye in the room.

All-in-all a great weekend. I had a fantastic time and I very much look forward to doing it again next year. This has been my third visit and it has been better and better every year. I have met some great people and seen some fabulous work. If you guys ever get a chance, this show is a must see. Looking forward to seeing you all next year.